Leaderboard Winners
Dear Liliana Saraiva, Congrats!
You are the first Leaderboard winner of LUPUS & CORA 2021 Virtual Congress.
Amazon e-gift card of €150 is on the way…
Dear Agner Parra, Congrats!
You are the awarded second place Leaderboard winner of LUPUS & CORA 2021 Virtual Congress.
Amazon e-gift card of €100 is on the way…
Dear Françoise Sarrot -reynauld, Congrats!
You are awarded third place Leaderboard winner of LUPUS & CORA 2021 Virtual Congress.
Amazon e-gift card of €50 is on the way…
Be active and win a prize!
Earn points for participation – join live sessions, visit booths, download materials, watch videos, chat with attendees…. the more you do, the more you earn.
Let's get started!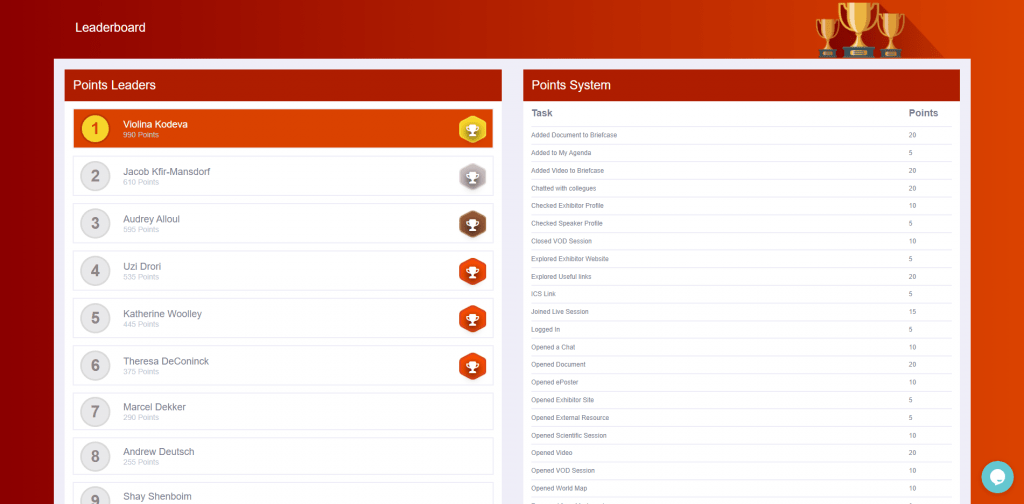 The rules
Game begins: 09:30 CEST (Central European Summer Time), Wednesday, October 6, 2021.
Game ends: 19:00 CEST (Central European Summer Time), Saturday, October 9, 2021.
Winner will be announced under the Leaderboard menu and notified via email at the end of the game period.
The top point earners will win a prize as it follows:
First Place: €150 Amazon voucher
Second Place: €100 Amazon voucher
Third Place: €50 Amazon Voucher
No cash substitute or exchanges for the prize.
Attendees whose company policies prohibit acceptance of a prize are not eligible to win.
Employees of Kenes Group and its affiliated companies, including distributors, are not eligible to win.